At our talk20 presentation we talked about the importance of nurturing what is in our midst. Supporting the local businesses, arts and culture that exists and vibrant in our city. Well here's your chance to show that support.
If you haven't heard by now, Phog Lounge (157 University Ave West) has been nominated for the Best Live Music Club in Canada on CBCRadio3.  They've made it into the top 10! How exciting is that?? But they need our help to win and all you have to do is vote and vote everyday.
Phog Lounge is great for so many reasons, one of them being that they are a supporter of local talent in our community. If you've never been and are looking for a spot to check out some pretty phenomenal music, then head to Phog Lounge. Owners Tom and Frank work tirelessly to promote the musical talent that exists in Windsor and Essex and they've got a pretty good thing going at Phog.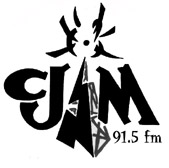 We love CJAM. I have it programmed in my car and listen to it on my way home from work and even on the weekends. They have an application pending with the CRTC. Rather than me explaining it, here are the details from CJAM's website:
CJAM is currently applying for an amendment to our broadcasting undertaking to assume a new signal at 99.1 FM. While CJAM has been broadcasting at about 1000 watts for over 10 years, the station was never granted 'Protected Status' from the CRTC, thanks to pressures from the FCC who were concerned with CJAM's level of interference with adjacent American stations. Without 'Protected Status', CJAM faces the risk of losing its signal to other applicants. In fact, CJAM faced that very risk recently when the CBC decided to apply for 91.5 in the fall of 2008. The CBC ultimately withdrew its application, but CJAM still faces possible removal from the FM band thanks to a pending American application for our signal. CJAM has identified a new signal – " 99.1 FM – that could afford the station protected status and has moved forward with applications for this new signal to Industry Canada and the CRTC. The application currently before the CRTC is now open for public comment, and this is where we need you, our community of listeners, programmers and volunteers to make your voice heard. If you value CJAM and community radio in Windsor and Detroit, please express your support of our application.
Why is CJAM important? They offer programming for the community that no one else does and provide a voice for those would never be heard otherwise on commercial radio. On the weekends they have some fantastic cultural programs, during the week you can tune in to listen to great local music, electronica and just about anything else or call in and engage in a discussion with one of the many talk shows they have like Scaledown Radio or All In A Day's Work.
You can show your support for CJAM by submitting your comments electronically at the CRTC website , by fax at 819-994-0218, or by good ol' fashion post to the following address: CRTC Ottawa Ontario K1A 0N2.