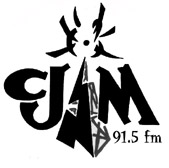 CJAM's pledge drive has officially begun and runs from October 24-October 31st.
This station offers great community programming and they need our help to continue to offer quality community radio in Windsor. Their goal this year is $25,000.
CJAM is a volunteer-driven not-for-profit organization and relies on contributions to fix, replace and maintain the station's broadcasting equipment.
This week you can call in to CJAM and make your donation at 519.971.3630 or pledge online at www.cjam.ca
Let's help them reach their goal!