It's no secret that we love CJAM.  So every year during their pledge drive we try to give what we can to help out a great local radio station.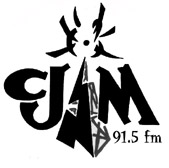 CJAM is a volunteer-driven not-for-profit organization and relies on contributions to fix, replace and maintain the station's broadcasting equipment (which ain't cheap!).  This week is the CJAM pledge drive which helps in raising funds to keep the station going.  
Why is CJAM important?  They offer programming for the community that no one else does and provide a voice for those would never be heard otherwise on commercial radio. On the weekends they have some fantastic cultural programs, during the week you can tune in to listen to great local music, electronica and just about anything else or call in and engage in a discussion with one of the many talk shows they have like Scaledown Radio, NIMBY or All In A Day's Work.
This week is also important for CJAM because it's the last week they will be broadcasing on 91.5.   By next week, they will be broadcasting from their new home at 99.1.
To donate, tune into 91.5 FM, call 519-971-3630 (Windsor) or 313-963-6112 Ext 3630 (Detroit), or pledge online!