I am not a baker. This a known fact. So when my colleagues at work suggested we have a bake sale at the office to raise a few dollars for Breast Cancer Awareness month, it sent chills down my spine.
To keep my stress level at a minimum, I decided to bake cupcakes. Easy, breezy cupcakes. Buy a box of cake mix, make a batch of cream cheese frosting and it's done. Well the cupcakes themselves turned out well. The cream cheese frosting….not so great.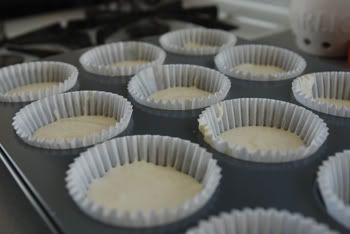 Following directions has never been something I've excelled at. After making a batch of frosting it seemed a little short for 24 cupcakes, so I began adding more ingredients. And more. And more. Until it looked like I had enough icing for 240 cupcakes instead of 24. It turned out a little softer (and a little lumpier) than I would have preferred. The intention was to pipe it onto the cake in a big, pretty, pink swirl. Didn't happen.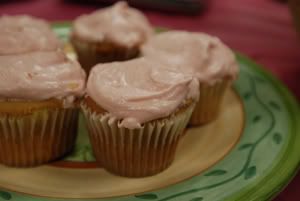 Despite, my failed attempts at making a cute cupcake, our "Cookies for Cancer" bakesale was a hit and my cupcakes sold out! The staff brought in all sorts of goodies from good ol' chocolate chip to apple pie and macaroons. We managed to raise $501.76 for the Cancer Society!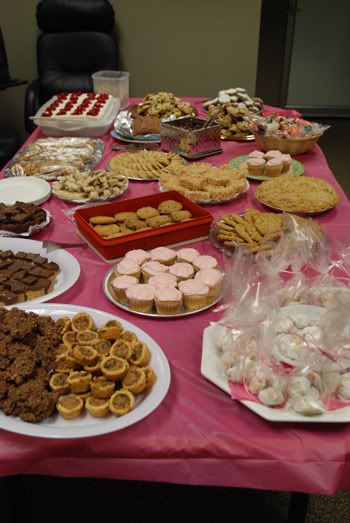 Here's the recipe for the cream cheese frosting from Chocylit. My guess is if you actually follow the recipe, it turns out a little better than mine did. Okay..maybe a lot better.
Cream Cheese Frosting
1 1/2 packages of cream cheese
1/2 stick of butter
4-5 cups of icing sugar
2 tsp of vanilla
Beat the cream cheese and butter together until completely smooth and creamy. Add the vanilla and slowly begin adding the icing sugar until you get the consistency that you are looking for.